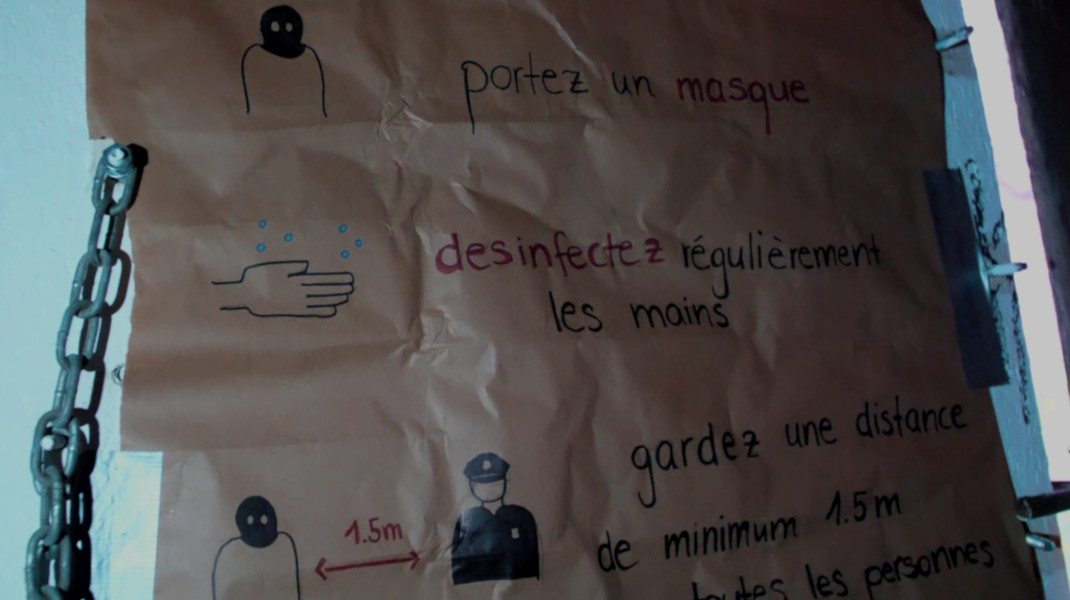 (english version further below)
Pour assurer un camp qui se passe le mieux possible en ces temps d'épidémie, nous avons prévu quelques mesures simples qui devront être suivies par toutes les personnes présentes :
– Porter un masque lorsque garder une distance de 2m est impossible, ainsi qu'en intérieur (aussi super pour l'anonymat !)
– Désinfection des mains massive. Tout le temps. (nous aurons des grosses réserves de désinfectant sur place, mais pense aussi à prendre ton flacon perso)
– Ne pas approcher, et si possible garder une distance de minimum 2m à toute personne extérieure au camp
IMPORTANT !
Si tu te trouves dans l'un des cas ci-dessous, reste chez toi et attends d'aller mieux et d'avoir fini ta quarantaine avant de nous rejoindre.
– Si toi ou l'un·e·x de tes proches présentez des symptômes (fièvre, toux sèche ou maux de gorge, perte de l'odorat ou du goût…1), reste chez toi !
– Si tu es revenu·e·x récemment d'un pays ou territoire figurant sur la liste de l'OFSP 2, finis ta quarantaine avant de venir !
De plus, il est extrêmement important que tu nous préviennes le plus vite possible si toi ou l'un·e·x de tes proches présentez des symptômes après que tu soies revenu·e·x du camp ! Nous pourrons ainsi prendre les mesures nécessaires et prévenir toutes les autres personnes concernées.
1 Pour plus d'informations sur les symptômes, check www.bag.admin.ch/bag/fr/home/krankheite…
2 Pour consulter la liste officielle des pays pour lesquels une quarantaine s'impose au retour en Suisse : www.bag.admin.ch/bag/fr/home/krankheite…
---
COVID-19
In order to ensure the stay to take place as safely as possible considering the current epidemic, we've set up simple measures which should be respected by everyone.
– Wear a mask when keeping a 2 meter distance isn't possible as well as when inside.
– Massive desinfection and hands washing. All the time. (huge storage of desinfectant will be found on the place but think about bringing your own little bottle as well)
– Do not approach, and if possible keep at least 2 meter distance from the people outside the defending area.
IMPORTANT
If you find yourself in one of the following cases, please stay at home and wait until you get better and join us after your quarantine.
– If you or one of your close relatives shows any suspect symptoms (fever, dry caugh, sore throat, loss of taste and smell..(1)), stay at home !
– If you recently came back from a country or a territory figuring on the OFPS list (2), end your quarantine before joining us !
Moreover, it is extremely important to warn us as soon as possible if you, or any of your close relatives, show symptoms after coming to the site. We will then be able to take action and prevent the people who might be concerned.
1 For more information about the symptoms, please check https://www.bag.admin.ch/bag/en/home/krankheiten/ausbrueche-epidemien-pandemien/aktuelle-ausbrueche-epidemien/novel-cov/krankheit-symptome-behandlung-ursprung.html
2 In order to keep track of the official list of the countries from which the arrival in Switzerland requires a quarantine, please check www.bag.admin.ch/bag/fr/home/krankheite…